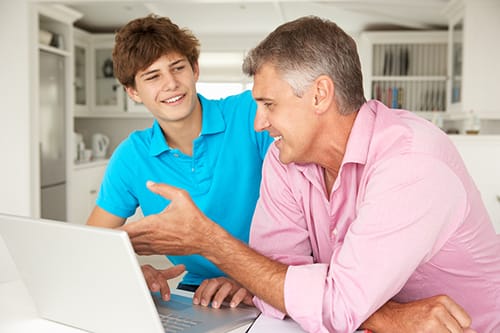 According to a Charles Schwab Foundation's Teens & Money Survey, only 48 percent of those surveyed said they understand how to budget their money, and 31 percent are already in debt to a person or company. It's never too late to help your teenagers become financially literate and prepare them for the realities of adulthood. Walk them through the necessary steps to become financially solvent from making a budget to monitoring their credit. Here are some ideas to get your teenagers started.
Create a Budget
Your teens' budget may vary depending on if you give them a fixed allowance to pay for all of their expenses from gas to clothes to school lunches. Or you might give them a specific amount to go toward movies, a night out with friends and incidentals. Help your teens figure out a budget and walk through what each item costs from gasoline to fun with friends. Remember to add in a buffer for emergency expenses or a special treat like a concert with friends.
Find a way to make a budget more interesting for your teenagers. A financial app like Mint can help keep track of your bank account, show what categories you spend the most money on and when you're getting low. The app can be used right from their smartphone to help them stay on track the next time they want to hit the mall.
Think Beyond a Traditional Job
With the economy still struggling, teen employment has seen a steady decline. This can affect their opportunities to make connections, gain skills and get acquainted with the working world, as well as earning their own money. Teenagers can create their own jobs with some ingenuity. Encourage them to consider their skills like tutoring, landscaping, babysitting or approaching businesses about being a social media ambassador and helping spread the word about their products. Don't dismiss your teenagers' ideas even if they seem too big. Plenty of kids have started their own entrepreneurial pursuits with success. Fifteen-year-old Lily Sanders saw her lip balm product line BLAMtastic reach a global audience and earn millions.
Monitor Your Financial Health
Encourage your teenagers to build good credit by paying bills on time and possibly taking out a small personal loan at a small credit union to faithfully pay back. This can all boost their credit scores and pave the way for healthy credit down the road. Warn them about issues like consumer debt, identity theft and teach them how to monitor their credit. Pulling an annual free credit report is a good first step, but won't alert you of day-to-day activity. Talk to them about services like Lifelock that can help identify fraudulent credit activity and help restore credit after identity theft.
Tithe and Pay Yourself First
Teach your teenagers to tithe to your local church and pay themselves before spending their new-found money. Talk about the history and importance of tithing and how paying yourself first puts you on the financial fast track. Help your kids create a savings strategy and set aside a specific amount. Invest their earnings in a CD or money market account and keep track of the accruing interest. It's not enough simply to save. Discuss earning goals like saving for a senior class trip, a new car or college tuition. Consider offering a matching plan. Offer to kick in 20 or even 50 percent to whatever they save to help them earn a big ticket item.