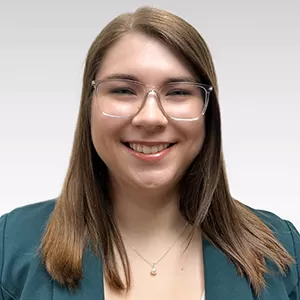 Practice Areas
Family Law
Divorce
Child Custody
Child Support
Paternity
Modification
Adoption
Guardianship
Prenuptial & Postnuptial Agreements
Spousal Support
Estate Planning
Education
Washburn University School of Law
Northwest Missouri State University

Bachelor of Science in Political Science
Junior Associate Attorney
Navigating the waters of a divorce or family law matter can be a daunting task. Having diligent and compassionate family law representation on your side can make all the difference in the end. They can provide educated and thought-out guidance throughout out your case and make sure that you are well informed throughout the process. Danielle Lawton is a Junior Associate Attorney with Stange Law Firm, PC. She can help individuals throughout the Jackson County, Missouri area, and nearby, from our firm's Kansas City family law office.
Danielle attended Washburn University School of Law in Topeka, Kansas where she earned her Juris Doctorate in May 2023. Prior to studying law, she obtained her Bachelor of Science in Political Science, with a focus in Criminal Justice and Criminology, in December 2019 from Northwest Missouri State University. In undergraduate school, Danielle was named to the Dean's List for five semesters and served as the President, Secretary, and Vice President of the NWMSU Mock Trial Team. She was also the Secretary for the Pre-Law Society and a member of the Sigma Society Service Sorority. Danielle is currently licensed and ready to help clients in the state of Missouri.
Before joining the Kansas City family law attorneys at Stange Law Firm, PC, Danielle most recently worked as an Intern at the Johnson County Youth Court in Olathe, Kansas where her tasks included facilitating youth court hearings by assisting youth court volunteers with hearing preparation. Danielle also has experience working as an Intern for the Washburn Law Clinic where she gained experience conducting client interviews and counseling sessions, keeping clients updated about case proceedings, drafting ICWA notices, and document filing. She also gained court room experience appearing at an adoption hearing. Danielle also previously worked as an Intern for Kansas Legal Services where she was tasked with assisting the Pro Bono Director with research regarding expungement, drafting expungement petitions at annual expungement day, and contacting clients regarding the expungement process and requirements. Danielle also worked in various other roles throughout her legal education, gaining valuable legal experience and skills.
Outside of her legal work, Danielle enjoys reading a good book and traveling to see new places. She also enjoys playing and spending time with her Aussiedoodle, Bruno.
Note: The choice of a lawyer is an important decision and should not be based solely on advertisements.
Protect Yourself By Understanding Your Options and Knowing Your Rights

Stange Law Firm, PC
120 S. Central Avenue, Suite 450
St. Louis (Clayton), Missouri 63105
Toll Free:
855-805-0595
Fax:
314-963-9191

Family Law Legal Services At

Your Fingertips
FEATURED ARTICLES FROM THE STANGE LAW TEAM
When you choose us, you don't have to sacrifice quality or service. You get the resources of a large divorce and family law firm AND the attentive service of a local attorney.
During a divorce, both spouses are obligated to disclose financial information to effectively determine property division. In some divorces, a spouse will hide assets and
Read More