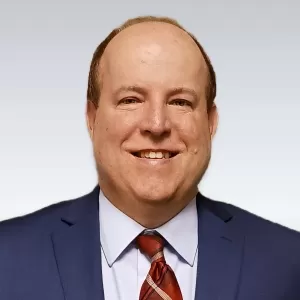 Practice Areas
Family Law
Divorce
Child Custody
Child Support
Paternity
Modification
Adoption
Guardianship
Prenuptial & Postnuptial Agreements
Spousal Support
Bar Admissions
Missouri
Missouri Western District Court of Appeals
Education
University of Missouri – Kansas City School of Law
University of Tulsa

Bachelor of Arts in Organizational Communication
Senior Associate Attorney
When facing a difficult family law matter such as a divorce or matters involving your children, it is important to have competent representation on your side to ensure that your rights are protected throughout the process. Devin Ledom is a knowledgeable Senior Associate Attorney in Lee's Summit, MO with Stange Law Firm, PC and he is ready to help clients begin the process of putting their life back together.
Devin attended the University of Missouri – Kansas City School of Law where he earned his Juris Doctorate in 1996. Before attending law school, Devin attended the University of Tulsa in Tulsa, Oklahoma where he graduated with honors earning his Bachelor of Arts in Organizational Communication in 1993. Devin is currently licensed to practice law in the state of Missouri and is a member of the Missouri Western District Court of Appeals.
Devin is a seasoned trial attorney with over 25 years of litigation experience. Before joining Stange Law Firm, PC, Devin spent the previous 15 years as an Assistant Prosecuting Attorney in Jackson County, MO. In this role, he served on the Domestic Violence/Special Victims Unit and worked to help prosecute domestic violence crimes, DWI, drug offenses, violent crimes, homicides, child and adult sex crimes. He also handled all special actions including probation violation hearings. Before this, he served on the Family Support Unit where he worked in the criminal child support enforcement division. In this role, he was tasked with reviewing referrals for legal action from the Division of Family Services and determined whether legal action was feasible. He also filed and prosecuted civil contempt actions and criminal charges when necessary, while also maintaining and monitoring a probation caseload that saw him file and prosecute probation violations for defendants who were failing to pay the probation support amount ordered. Prior to this, Devin spent 7 years working as an Assistant Prosecuting Attorney in Camden County, MO where he served as the Project Director for the Camden County Prosecuting Attorney Domestic Crimes Unit, a federally grant funded program through the Violence Against Women's Act and overseen by the Missouri Department of Public Safety. In this role he maintained and oversaw grant paperwork, managed a domestic violence investigator, and served as the primary prosecutor for domestic violence prosecution, while also prosecuting various other felony and misdemeanor cases and probation violations. Devin also spent 3 years working as an Assistant Public Defender for the Missouri State Public Defender's Office where he served as a trial attorney for the Office of the Public Defender in the Trial Division.

When Devin is not busy assisting his clients, he loves spending time with his wife and 2 children. They enjoy playing games, watching the Royals and the Chiefs, and can often be found at the zoo on a nice day. Devin also enjoys golfing and playing fantasy football.
Note: The choice of a lawyer is an important decision and should not be based solely upon advertisements.
Protect Yourself By Understanding Your Options and Knowing Your Rights

Stange Law Firm, PC
120 S. Central Avenue, Suite 450
St. Louis (Clayton), Missouri 63105
Toll Free:
855-805-0595
Fax:
314-963-9191

Family Law Legal Services At

Your Fingertips
FEATURED ARTICLES FROM THE STANGE LAW TEAM
When you choose us, you don't have to sacrifice quality or service. You get the resources of a large divorce and family law firm AND the attentive service of a local attorney.
After a divorce, a family's circumstances can change, and the divorce court orders can be modified to reflect those changes. Child support is one modifiable
Read More