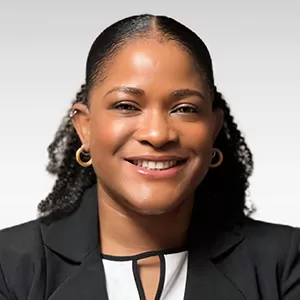 Practice Areas
Family Law
Divorce
Child Custody
Child Support
Paternity
Modification
Adoption
Guardianship
Prenuptial & Postnuptial Agreements
Spousal Support
Education
University of Houston Law Center

Masters in U.S Law (LLM U.S. Law)

Nigerian Law School (Lagos)

Barrister & Solicitor of the Supreme Court

University of Phoenix

Master's Degree in Management & Human Resources Management (MHRM)

Abia State University (Nigeria)
Ezinne "Grace" Okorocha, Esq.
Facing divorce or family law matters can be a very emotional process. For this reason, it is important to have hope, and having dedicated representation that understands what you are going through can make all of the difference. Ezinne "Grace" Okorocha is an Associate Attorney with Stange Law Firm, PC and is ready to help and assist clients in and around Jackson County, Missouri from the firm's Kansas City family law office.
Grace earned her Masters in U.S. Law (LLM) from the University of Houston Law Center in May of 2020. Before this, she attended the Nigerian Law School in Lagos in 2018 where she became a Barrister & Solicitor of the Supreme Court. Before studying to become a lawyer, Grace obtained a Master's Degree in Management and Human Resource Management from the University of Phoenix. She also has a Bachelor of Law degree that she earned in 2005 from Abia State University in Nigeria. Grace is currently licensed and ready to assist clients in the State of Missouri.
Before joining the Kansas City family lawyers at Stange Law Firm, PC, Grace gained legal experience interning for the Travis County Attorney's Office in the Domestic Family Violence Division. In this role she would regularly attend team meetings and would follow court proceedings online. She also utilized pending cases to gain valuable legal research experience. Grace also spent time as an intern for the Harris County District Attorney's Office in the Misdemeanor Division where she spent time contacting victims of crimes for restitution, injury and punishment, performing discovery, preparing for trial and attended court with a supervising attorney. Grace has a high attention to detail and will work hard to ensure that your rights are protected throughout the duration of your family law matter.
Outside of her legal practice, Grace enjoys cooking and experimenting with new recipes. She also loves to travel and encounter new places.
Note: The choice of a lawyer is an important decision and should not be based solely upon advertisements.
Protect Yourself By Understanding Your Options and Knowing Your Rights

Stange Law Firm, PC
120 S. Central Avenue, Suite 450
St. Louis (Clayton), Missouri 63105
Toll Free:
855-805-0595
Fax:
314-963-9191

Family Law Legal Services At

Your Fingertips
FEATURED ARTICLES FROM THE STANGE LAW TEAM
When you choose us, you don't have to sacrifice quality or service. You get the resources of a large divorce and family law firm AND the attentive service of a local attorney.
After a divorce, a family's circumstances can change, and the divorce court orders can be modified to reflect those changes. Child support is one modifiable
Read More