Founding Partner, Kirk C. Stange, released a full-length book through Thomson Reuters (Aspatore Publishing) in 2014 called Prenuptial Agreements Line by Line.
Below is the Description: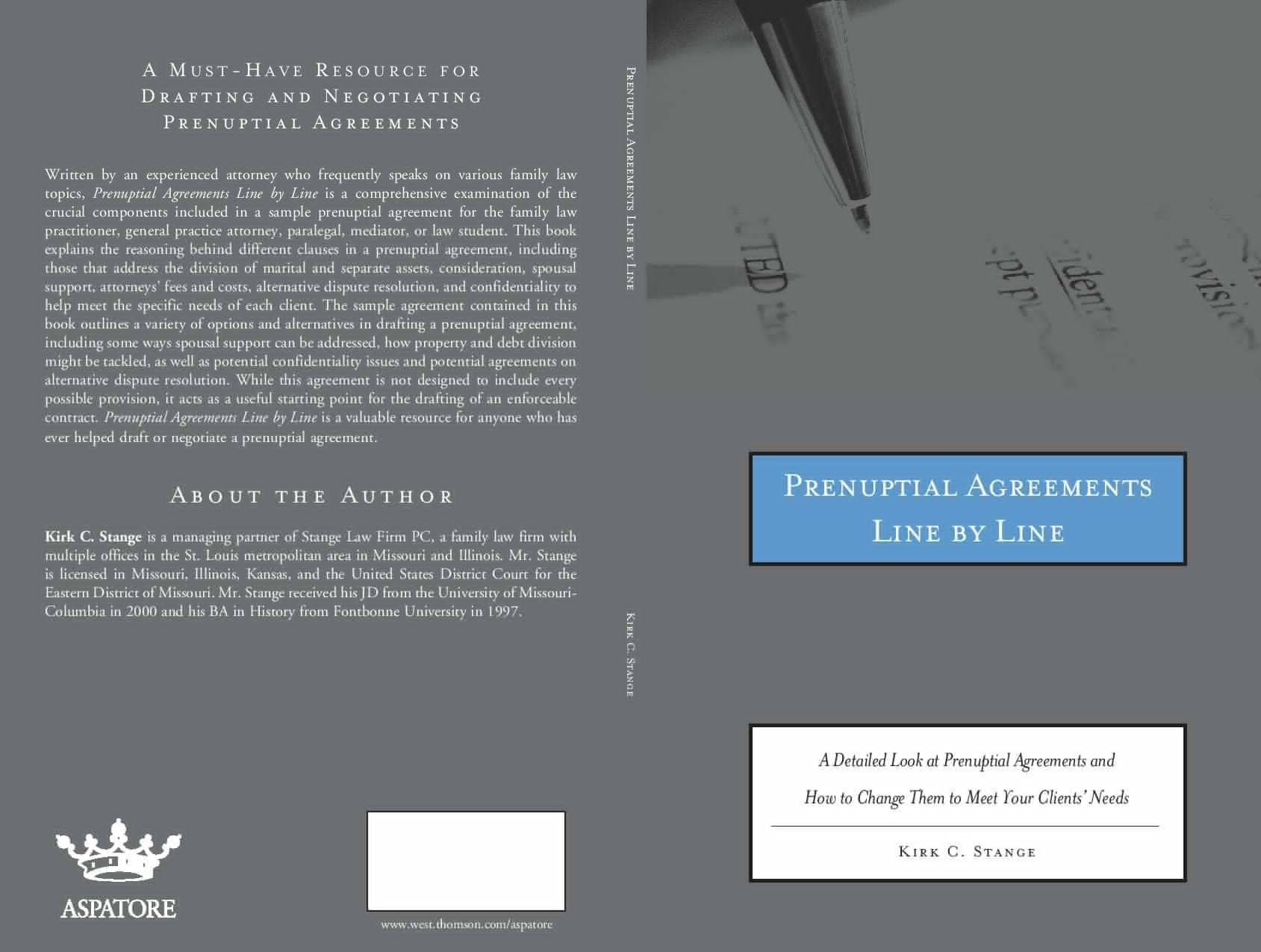 Written by an experienced attorney who frequently speaks on various family law topics, Prenuptial Agreements Line by Line is a comprehensive examination of the crucial components included in a sample prenuptial agreement for the family law practitioner, general practice attorney, paralegal, mediator, or law student.This book explains the reasoning behind different clauses in a prenuptial agreement, including those that address the division of marital and separate assets, consideration, spousal support, lawyers' fees and costs, alternative dispute resolution, and confidentiality to help meet the specific needs of each client. The sample agreement contained in this book outlines a variety of options and alternatives in drafting a prenuptial agreement, including some ways spousal support can be addressed, how property and debt division might be tackled, as well as potential confidentiality issues and potential agreements on alternative dispute resolution. While this agreement is not designed to include every possible provision, it acts as a useful starting point for the drafting of an enforceable contract. Prenuptial Agreements Line by Line is a valuable resource for anyone who has ever helped draft or negotiate a prenuptial agreement.To get your copy of the book, or see a preview, click here.
Need Help Understanding Prenuptial Agreements in Missouri, Illinois, Kansas, Oklahoma, Nebraska, and Indiana? Call Stange Law Firm, PC Now
For assistance understanding, your prenup, call our firm today or send us a message online. With a commitment to helping individuals through the high-asset divorce process, we serve clients throughout Missouri, Illinois, Kansas, and Oklahoma. We have locations in St. Louis, Chicago, Kansas City, Indianapolis, Springfield, Columbia, Wichita, Topeka, Oklahoma City, Tulsa, Omaha, Lincoln, and beyond.